UNIQUE OPPORTUNITY: Finish the entire AlphaStar Year-round Curriculum in just 8 weeks!
AlphaStar Computer Science Spring Accelerated Courses are composed of two sessions:
Session 1: April 13-May 9 (4 weeks, no classes on Sundays)
Session 2: May 11-June 6 (4 weeks, no classes on Sundays)
A course is 4 weeks, 6 days per week (Mon-Sat). In total, there will be 24 classes — 1.5 hour per day. One course is equivalent to a semester in year-round courses (fall / spring). That is, a student can finish a year-round course by taking fall + spring course in session 1 and 2.
NOTE: computer is not provided. Students have to bring their own laptops.
CRITICAL QUESTION:
How do you teach riding a bicycle?
Can you teach with a lecture on the board?
Or have the student sit on the bicycle and guide with practice?
IT IS THE SAME FOR PROGRAMMING and
USA COMPUTING OLYMPIAD TRAINING
We make them do the coding in-class with guided practice
OUR TEACHING STYLE:
Problem-solving based teaching
We teach concepts through carefully and specifically selected problems.
OUR TEACHING METHODOLOGY:
In a 90 minute session, here is the flow of our typical class: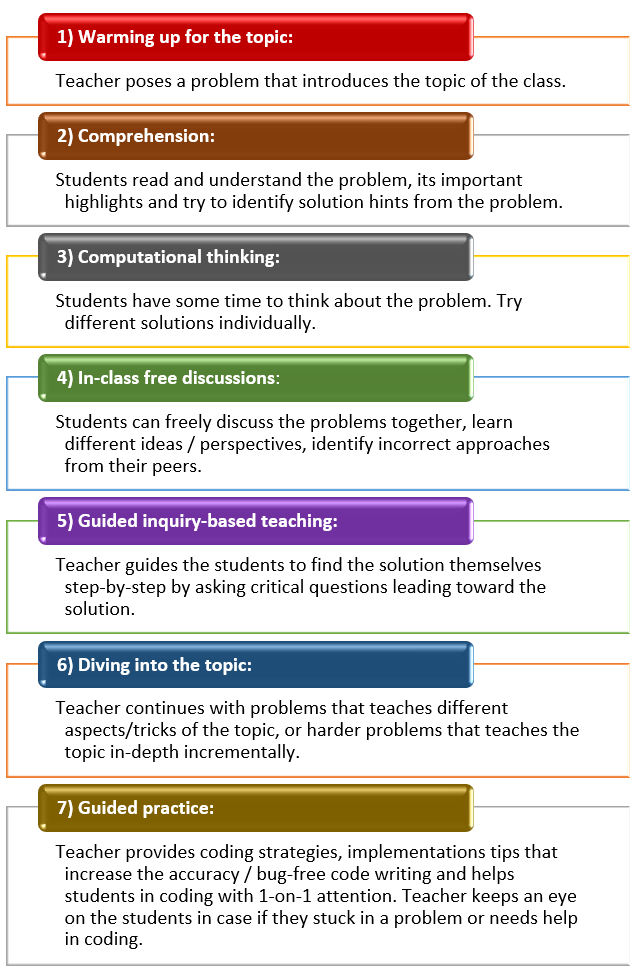 HOW DID WE SHIFT OUR ON-SITE CLASSES TO ONLINE KEEPING THE SAME QUALITY?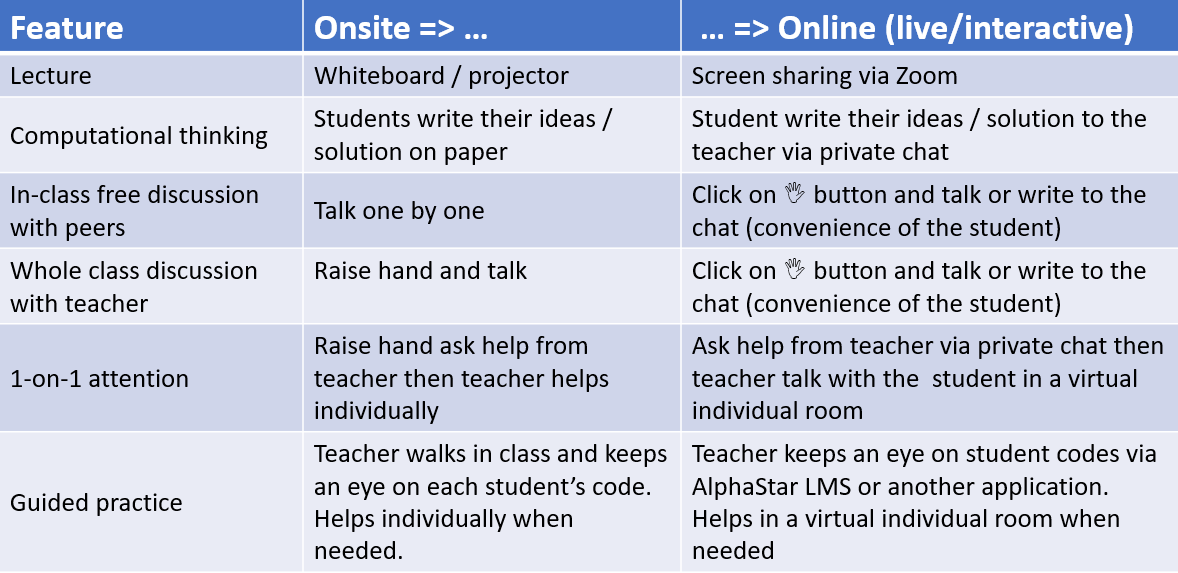 Schedule
All class times are Pacific Time (PT).

SELF-STUDY: Recorded lectures will be available in a few days after the live class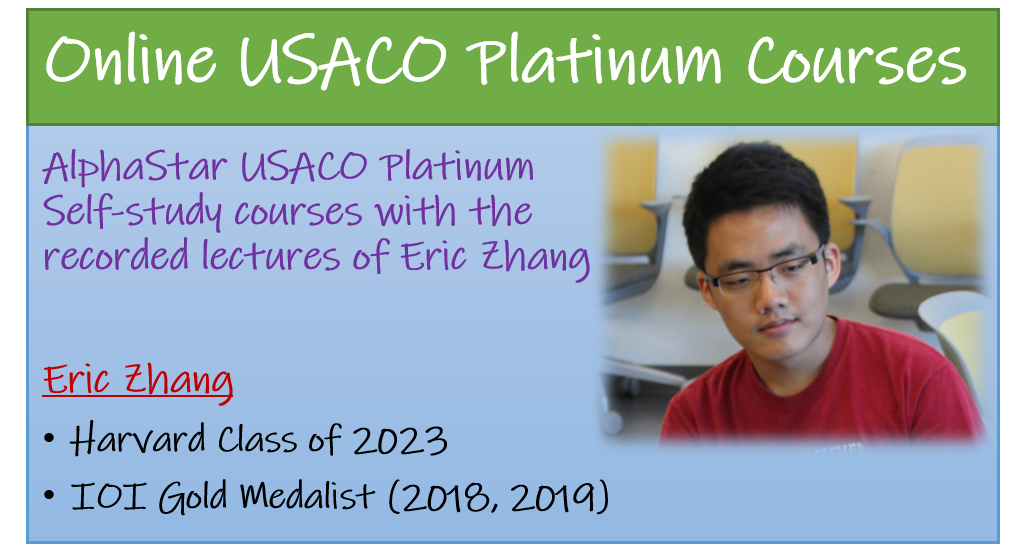 Sample from Eric's USACO Platinum Lecture:
Fees
Self-Study: $500
Live (Interactive): $1050
Follow us at our Facebook page for available discounts
Cancellation and Refund Policy
Levels and Courses
There are five levels as listed below. For more details and diagnostic exams, please click on the course name below.
Programming: These level is for students with very little or no programming background. The aim is to teach fundamentals of programming and to improve problem solving skills. Note that the focus is not the language itself but problem solving in these courses. In this level, there are four different language courses.

Programming with Python: CS21A + CS21B
Programming with Java: CS23A + CS23B

USACO Bronze: This level is for students who have programming and strong Math background.
USACO Silver: This level is for students who compete in USACO Silver division.

USACO Silver Basic: CC31A + CC31B
USACO Silver Advanced: CC35A + CC35B

USACO Gold: This level is for students who compete in USACO Gold division.

USACO Gold Basic: CC41A + CC41B
USACO Gold Advanced: CC45A + CC45B

USACO Platinum: This level is for students who compete in USACO Platinum division.
Please see the AlphaStar Computer Science Program page for more details.
Diagnostic Exams
Please click for diagnostic exams.
If you have further questions about levels, please send us an email at info@alphastar.academy